Aika
torstaina 20. toukokuuta 2021 klo 9.00–12.00
Paikka
Etätapahtuma (Zoom)
Webinaariin pääsee liittymään klo 8.45 alkaen. Ohjelma alkaa klo 9.00.
Ilmoittautuminen
Tapahtumaan ei tarvitse ilmoittautua
Ohjelma
9.00 – 9.15   Ari Muhonen: Avauspuheenvuoro 
9.15 – 10.15  Cynthia Liem: Challenges for Future Libraries (PDF)
10.15 – 10.25   Tauko
10.25 – 11.10  Janne-Tuomas Seppänen: End of an Era? (PDF)
11.10 – 11.55   Thomas Kaarsted: Citizen Science: The Power of Many – and possible new roles for libraries (Esitysmateriaalin saa pyydettäessä yhteistyösihteeriltä)
11.55 – 12.00   Ari Muhonen: Loppusanat 
12.00   Tilaisuus päättyy
Webinaarin puheenjohtajana toimii FUNin puheenjohtaja Ari Muhonen
Kenelle?
Webinaari on suunnattu erityisesti kirjastoalan ammattilaisille ja opiskelijoille
Puhujien esittelyt
Cynthia Liem, Assistant Professor, Delft University of Technology
Cynthia Liem is an Assistant Professor at the Multimedia Computing Group. 
Challenges for Future Libraries
What does the future library look like? What may need to improve in relation to today's libraries? And how may digitization help in this? Cynthia Liem will share experiences, both from her activities in the Future Libraries Lab, as well as in her broader research projects.
Thomas Kaarsted, Deputy Library Director, University Library of Southern Denmark
Thomas Kaarsted is Deputy Library Director and leads the SDU Citizen Science Knowledge Center.
Citizen Science: The Power of Many – and possible new roles for libraries
Citizen Science is manifesting itself across universities and communities globally. As new centres and hubs are emerging at European universities, the question begs: Is there a role for libraries? This presentation will explore the transformational power of community-based research, and its bearing on results, data, and democracy. The talk will discuss how current library competencies and roles can be merged into new research support services along with other actors. And most of all the talk will try to answer an important question posed by Dr. Josep Perello, who coined the term Social Citizen Science: "If libraries can loan out books, why can't the loan out Citizen Science projects?" Even though every country and university is different, there is a place for research libraries.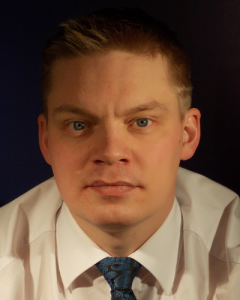 Janne-Tuomas Seppänen, Research Support Team Leader, Open Science Centre, University of Jyväskylä
End of an Era? A Synopsis. 
[Gr. syn-, together + opsis, seeing]
The hangover he had acquired from Mouton Blanc the night before could not dampen François de Mézeray's excitement in the morning.
He wasn't quite sure if it had been himself or Denis de Sallo who first proposed the idea. Or maybe it had been Blaise Pascal, though the man had been incessant all night about some wager with God, and about his new business idea, "public transportation".  Blaise had insisted they try it when they left the cabaret, so they had first waited for the eight-seat carriage circling its scheduled route around Paris, and then paid five sols each for the ride home. François and Denis had quietly agreed the public transportation idea was useless. But this other idea, it was nothing short of audacious, brilliant, revolutionary!
"Denis!", he shouted downstairs as he was getting up from his bed, "you recall the conversation we had last night? About the Respublica Literaria correspondences? And the printing press? That we'd start publishing the letters, periodically, in print!"
"But of course I do!", Denis replied, "Such a beautiful idea! Instead of just one person at a time, every scholar in Paris getting access to the newest ideas and experiments by the most ingenious of the world, at the same time! Old René would have loved this."
"Descartes?"
"Yes. Did you hear already? The church now plans to list his works in the next edition of Index librorum prohibitorum. Those bastards.", Denis said.
"Ha! They would find it much harder to ban columns on a page of a mass-printed publication, particularly if we put things like obituaries of cardinals right next to them. We could call it The Journal of Savants", said François.
"Hey, I just remembered, doesn't Cusson have a press? And he has connections in the royal court? This could actually work out," said Denis with rising glee.
"Yes…" François stopped on his way down on the last step.
Except.
Blaise had also mentioned a letter he had just received from Robert in Oxford. Not from Boyle, but his assistant, Robert Hooke. The young man was eager to explain his fanciful idea of a system of communication towers, that could relay a message across vast distances in visual symbols, in light speed. The towers should of course be equipped with powerful telescopes, so Robert had been asking if Blaise could introduce him to Baruch Spinoza, whose lenses were known to be the best in the world. But there was more. Robert was also keen to learn more about the Pascaline machines, the mechanical calculators Blaise had invented and built. What if every tower was also equipped with a Pascaline? And what if the messages were to be encoded with Bacon's cipher, not to encrypt them, but to represent them in either-or symbols, sort of "binary code", so that a mechanical calculator could run operations on them, faster than any human can? Blaise had explained the letter with a laugh, but now François understood something.
Natura abhorret a vacuo. Young Robert's idea would inevitably come to life, to occupy a space that needed it most. And that space was not politics, military matters, or entertainment, but communication of science. The members of Respublica Literaria, the ingenuous theorists, inventors, experimenters of the world, those very brightest minds alive in this beginning era of Enlightenment, they shall joyously and immediately embrace the opportunities this technology brings forth. Scientific correspondence on paper would be the first thing to end, because the network of semaphores and pascalines would carry the newest thoughts from Wien to London in just hours, from Leiden to Paris in minutes.
François could see it now. Just a few more years, a decade at the most, and everything will be different in scientific communication. The idea of a prestigious periodic pamphlet printed in Paris, as a vehicle for communicating science? That was an idea dead on arrival, at this late stage of modernity, Anno Domini 1662.
"You know what Denis, just forget about the whole thing. Any wine left?"